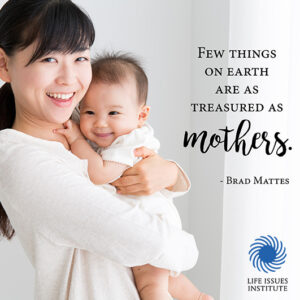 This month we celebrate Mother's Day. Life Issues Institute acknowledges the many different types of mothers we see and hear about every day. From Olympic medal winning mothers to those who have given birth and chosen adoption to those who struggle with fertility issues, we acknowledge the sacrifices that are made by these women.
This is the nature of motherhood.  Mothers are called in many different ways to make sacrifices for the love of children. These courageous women are every-day ordinary people doing extraordinary things.
Please reach out to those mothers in your life and say thank you. Thank you for choosing life.  Thank you for your sacrifice of self. Happy Mother's Day!