The Biden administration and pro-abortion controlled Senate are poised to advance a major anti-woman achievement.
It will likely have a devastating impact on millions of American women.
Dr. Robert Califf, a former FDA Commissioner under Barack Obama, has been nominated by President Biden and is seeking Senate confirmation to fill his former post.
Under Obama, Califf oversaw the gutting of reporting requirements regarding complications resulting from the chemical abortion pill.
The FDA recently announced it would no longer require in-person dispensing of chemical abortion pills, based on what has been categorized as "intentionally incomplete data" compiled under Califf's weakened reporting requirements. The FDA ruling opens the door to dangerous DIY home abortions in America.
This expansion of an extreme pro-abortion policy comes in the face of documented evidence that chemical abortion puts countless women at risk in addition to killing their unborn babies.
The evidence is expansive and growing.
A new study declared chemical abortion to be a major public health threat. It showed the rate of resultant emergency room visits increased over 500% between 2002 and 2015. In addition, large-scale, peer-reviewed studies have shown that chemical abortion is four times more risky than surgical abortion.
The experience of other countries dramatically underscores the validity of these studies.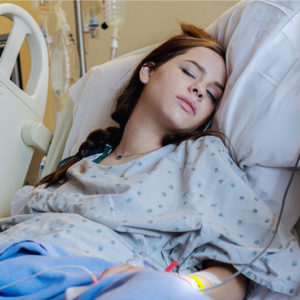 Abortion chain Marie Stopes Australia admits that 1 in 20 women who undergo chemical abortion experience retained parts of their baby or placenta, usually requiring emergency medical treatment. The National Institute for Health and Care Excellence rates this complication as "common."
These women had chemical abortions under medical supervision that included an ultrasound to confirm the location and age of the baby.  DIY home abortions provide no such protections for women and the risks increase with the advancement of pregnancy – a real concern for mail-order abortions.
The United Kingdom has experienced a similar rate of complications. The have observed that ambulance calls after chemical abortions have doubled, and they are seriously concerned about abortion coercion – that partners are intimidating women to take the abortion pills or secretly slipping them into food or drinks.
An overwhelming number of the people of Scotland, particularly women, have serious concerns about making DIY home abortion pills permanent.
Money appears to be driving these home abortions. A UK Care Quality Commission report showed that all Marie Stopes International abortion facilities paid staff bonuses when they persuaded women to have abortions. The Commission also found evidence that the staff used high-pressure sales tactics.
Several states in America are so concerned about the welfare of women who utilize chemical abortion, they have enacted medical safeguards including the prohibition of mail-order abortion drugs. These states are Arkansas, Arizona, Indiana, Ohio, Oklahoma, Montana, and Texas. It is expected that at least seven additional states will enact protective legislation in 2022.
Without intervention, Dr. Robert Califf will once again wreak havoc on women's health by further advancing an extreme abortion agenda that will adversely impact women and their babies.
I have joined several other pro-life leaders in signing a letter asking Senators to deny the confirmation of Dr. Califf as FDA Commissioner.
Protecting women and their babies,