Cincinnati, OH (Aug 2, 2010) – Life Issues Institute is pleased to announce that our weekly pro-life television program, Facing Life Head-On, has received an Emmy® Award. The National Academy of Television Arts and Sciences presented our host, Brad Mattes, the Emmy® statue Saturday evening at an awards ceremony in Columbus, Ohio.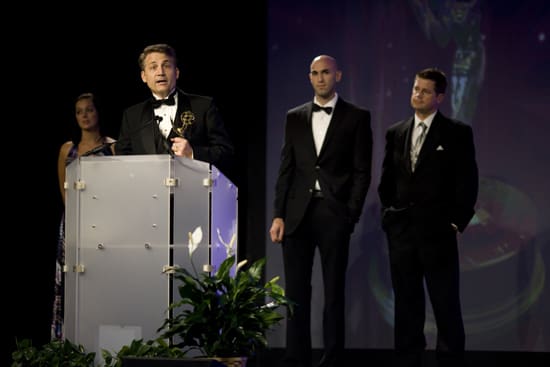 Facing Life Head-On received the regional Emmy® for being the "best of the best" in the category of Interview and Discussion.
"Obviously we're quite thrilled by the honor," said Mattes, also executive producer of the program. "I'm not aware of the pro-life movement receiving an accolade at this level by the media industry, much less the Academy. We're absolutely delighted!"
In his acceptance speech during the black-tie awards ceremony, Brad thanked his TV guests for being an inspiration to their viewers. And he dedicated the award to the men and women in Afghanistan and Iraq who risk their lives and sometimes die to defend the freedoms we hold dear.
To view more photos from the event, please go to our Emmy® Award Photo Gallery.
###
About Life Issues Institute: Life Issues Institute is dedicated to changing hearts and minds of millions of people through education. Organizations and individuals around the world depend upon Life Issues Institute to provide the latest information and effective tools to protect innocent human life from womb to tomb.