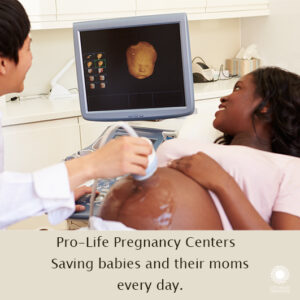 Pro-life pregnancy centers, medical clinics and maternity homes are on the frontlines in the fight against abortion. The staff and volunteers at these facilities work tirelessly every day, providing aid to women who feel trapped and alone. They are prepared to answer any question and guide mothers through any obstacle.
Pregnancy centers offer a wealth of resources to women facing unplanned pregnancies. These include pregnancy testing, ultrasounds, prenatal care, STD testing, parenting classes, material assistance, adoption referrals, housing, etc. Many facilities offer after-abortion support to those who are grieving the loss of a child through abortion. They are prepared to love, inform and support everyone who walks through their doors. Incredibly, these centers don't charge their clients. They provide all these services for free.
To the women and babies they serve, these organizations are heroes… but to the abortion industry and its supporters, they're public enemy number one.
Over the years, pregnancy help groups have faced opposition from abortion activists, politicians and media entities. These charities and non-profits have endured a variety of attacks, from slander to physical violence. When the Dobbs draft was leaked in May 2022 – and when Roe was officially overturned in June 2022 – the vitriol against these life-affirming centers intensified.
Government officials across the country are introducing and enacting legislation that could impact abortion in their respective states. Some of these bills could drastically affect pro-life work, as pregnancy centers are the subject of said bills. The laws proposed by pro-abortion politicians have the potential to shut down or heavily restrict pregnancy help facilities.
In late March, the Illinois state Senate passed SB 1909. This bill classifies pro-life pregnancy centers as "limited services pregnancy centers." If SB 1909 is enacted, centers and medical clinics accused of "deceptive acts or practices" can receive a fine up to $50,000.
Lawmakers in Vermont introduced S.37. This bill accuses "limited-services pregnancy centers" of providing "confusing or misleading information" and using "false and misleading advertising."
Colorado's SB23-190, dubbed "Preventing Deceptive Practices at Anti-Abortion Centers," intends to censor pregnancy centers and forbid them from offering information on abortion pill reversal. Governor Jared Polis signed SB23-190, but Bella Health + Wellness – a non-profit with three medical campuses, its primary center located in Eaglewood – filed a lawsuit soon after. A federal judge ruled that the organization could continue offering abortion pill reversal.
The claims made, and the language used, throughout these bills are parroted by abortion activists. They continually call pro-life facilities "limited services centers" or "fake clinics." They also accuse pregnancy centers of "lying to women" or "using deceptive tactics." This is projection, plain and simple. The ones who are lying to women are those within the abortion industry. They hide facts about abortion – both the physical and emotional risks – and prenatal development so they can make a profit. They make money by selling abortion to vulnerable, unsuspecting women.
Pregnancy help organizations disclose on their websites – and in person – that they do not commit nor refer abortions. They simply present all the facts so women can make informed decisions. Pro-life pregnancy centers may not do abortions, but their services are far from limited. They offer a surplus of materials and resources you'll never see at an abortion facility.
Fortunately, there are government officials who recognize all the good these life-affirming centers do for women and children across the country. They are taking legislative steps to support pregnancy centers and, in turn, help mothers and families in need.
In late March, West Virginia Governor Jim Justice signed House Bill 2002 while visiting the Cross Roads Pregnancy Care Center in Charleston. The legislation established the West Virginia Mothers and Babies Pregnancy Support Program, allowing pregnancy help organizations to receive state funding. Pregnancy centers typically rely on donations from their supporters. The funds they receive through this new program will help them expand their resources and serve more families.
In early April, the Arkansas Legislature passed Senate Bill. 286. This bill will allow pregnancy help organizations to receive grants from the Department of Finance and Administration.
Most recently, Florida Governor Ron DeSantis signed Senate Bill 300, also known as the Heartbeat Protection Act. In addition to protecting babies when their heartbeat is detected, this law will have the Department of Health contract with Florida Pregnancy Care Network, Inc., an alliance of pregnancy help organizations.
To make abortion unthinkable and unnecessary, we must support mothers during pregnancy and after birth. For the past five decades, pro-life pregnancy centers have gone above and beyond. We must support these organizations so they can continue walking with women, men and their babies. Consider volunteering at a pregnancy center in your area.
The legislative battle over pregnancy centers won't end anytime soon. Pro-abortion politicians will continue producing bills that attack these centers, and pro-life politicians will continue producing bills that increase funding for them. It's our duty to elect candidates who recognize and support the life-saving work performed by pregnancy help organizations. We must voice our support for life-affirming legislation and condemn anti-life legislation.