November is National Adoption Month and presents us with an opportunity to focus on the need to promote and consider the option of adoption.
For women facing an unexpected pregnancy, adoption is a life-affirming alternative that both she and her baby can live with. The option of adoption opens a plethora of choices for women. She can choose a closed or open adoption – or anything in-between. The expectant mom has options and the ability to make a placement plan for her child: she can choose an adoptive family with a specific religion, location, or family size. And she has the option of being involved in the baby's life. Additionally, the expectant mother can choose to work with an adoption agency that cares for her needs during the pregnancy and post-placement. It is critical that agencies provide post-placement care and counseling for birth mothers.
Another wonderful avenue of adoption is through the foster care system. This simple focus is providing impressive results.
Louisiana has set a record for the most foster care adoptions during the past year. The Louisiana Department of Children and Family Services announced that 912 children were placed in permanent homes. Not only is adoption life-changing for the child, it provides untold blessings for families that open their hearts and homes to children who need a forever family.
Maybe it's something in the South…
The Tampa Bay area is also getting noticed for their efforts and success toward the permanent placement of foster kids. They have changed the lives of 60 children by matching them with forever homes.
The stability of a permanent family provides blessings that you and I routinely take for granted. For example, a stable family affords a safe and secure environment where abuse and addiction are only a memory, which instills hope and confidence in children. There is food on the table, clothes to wear and most importantly of all, someone who unconditionally loves them for the rest of their lives.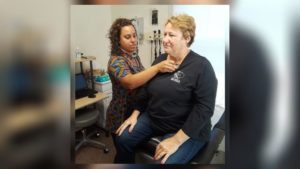 Kathryn Mccuistion Harkender is a living, breathing testimony for foster care adoption. She has experienced both worlds of foster care and permanency. Adoption gave Kathryn more than a loving family. It gave her the opportunity to serve her nation in the Army and later pursue an education. She is now a family nurse practitioner in the Dayton area. Kathryn is also able to give back to her community by coaching pee wee cheerleading.
Kathryn wants people to know that foster care adoption is a "beautiful thing." She added, "Because of my placement, I was able to live a healthy safe life."
Adoption is a blessing that will positively impact future generations. Just like saying no to abortion, adoption not only changes the trajectory of the lives involved, it potentially opens unlimited possibilities for their children and grandchildren.
Is there room in your heart and home for a child who desperately needs a forever family? Please give prayerful consideration to adoption, which can bless everyone involved. I don't think it's a coincidence that a focus on adoption and Thanksgiving are in the same month.
If you feel God's gentle whisper in your ear, contact your local foster care agency today to see if expanding your family is in your future.
Sincerely for LIFE,