Cincinnati, OH (July 22, 2013) – The National Academy of Television Arts and Sciences has awarded the pro-life television show Facing Life Head-On a Regional Emmy® Award for its program Teens Making Healthy Choices.
The winning episode gives an inside look at Healthy Visions, a program focused on helping teenagers make better life decisions when it comes to dating, sex and self-image. Healthy Visions is a week-long program for high school students designed to combat the "anything goes" philosophy of a sex-saturated culture. It is making quite an impact in the lives of teens, helping them develop the skills to deal with the challenging issues they face. This program features several students sharing how Healthy Visions literally changed their outlook and their lives for the better.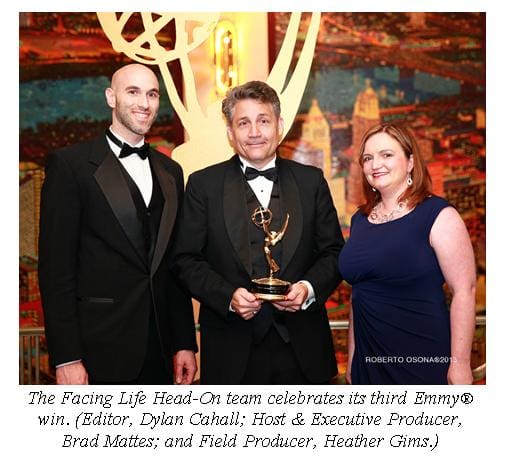 Brad Mattes, host and executive producer of the program, is honored by this achievement. "It is a privilege to accept this award," he said. "Yet, in my eyes the true winners are the team at Healthy Visions and the students whose lives are changed by their message. The individual stories told in this program are incredibly powerful. The teenagers each traveled their own journey to discover their true value and identity. There's no greater reward than the knowledge that young men and women are rejecting society's stereotypes and instead being empowered to make better life decisions."
Produced in Cincinnati, Ohio, Facing Life Head-On is a 30-minute news magazine-style program available to over 100 million homes on various television networks. Fusing education with entertainment, the show promotes the value of innocent human life at all stages. The broadcast covers life-affirming topics such as adoption, disabilities, abortion, stem cell treatments, medical technologies and end-of-life care. Facing Life Head-On is a multi-Emmy® Award winner, earning recognition for excellence in Interview and Discussion Programming (2013, 2010) and Specialty Programming (2012).
View photos from the 2013 awards ceremony.
###
About Life Issues Institute : Life Issues Institute is dedicated to changing hearts and minds of millions of people through education, the foundation for pro-life political and legislative victories. For over 22 years, organizations and individuals around the world have depended upon Life Issues Institute to provide the latest pro-life information and effective tools to protect innocent human life from womb to tomb.