In 43 years of pro-life advocacy I have never seen such momentum and advancement on behalf of innocent human life than what I've witnessed since President Donald Trump has taken office.
He's been a steadfast and unwavering champion for the unborn. Early on an unlikely vehicle to many, he has proven the naysayers wrong and demonstrated a deep commitment to saving babies and caring for mothers – even when Congress has refused to act.
Then, just days ago, pro-life history was made.
I and other Life Issues Institute staff watched from only feet away as President Trump made history, becoming the first President of the United States to address a pro-life gathering in person. And he made a powerful presence!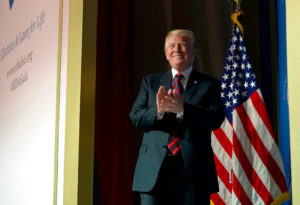 Addressing the Susan B. Anthony List 2018 Campaign for Life Gala (Life Issues Institute is now a proud member of the SBA family), President Trump stated, "When I ran for office, I pledged to stand for life. And as President, that's exactly what I've done. I have kept my promise…."
The president is right.
The list of the pro-life promises President Trump has kept is growing daily – a testament not only to his leadership but to the overwhelming strength of the pro-life movement. Here are just some of the president's greatest pro-life achievements so far:
Surrounding himself with pro-life stalwarts like Mike Pence, who he recently called a "true leader in the Pro-life Movement," Attorney General Jeff Sessions and Counselor to the President Kellyanne Conway.
Appointing pro-life Supreme Court Justice Neil Gorsuch, which was a key promise that drew wide-spread support from many in the pro-life community.
Promising to sign the Pain-Capable Unborn Child Protection Act, which would prohibit abortions after 20 weeks when babies in the womb can feel the excruciating pain of abortion.
Reinstituting the Mexico City Policy and expanding it to bar any U.S. government foreign assistance from funding abortion.
Creating the Conscience and Religious Freedom Division within the Office for Civil Rights at the Department of Health and Human Services, which will protect doctors, nurses and other health care professionals who do not want to participate in the abortion procedure.
Announcing the federal Protect Life Rule, which will direct Title X tax dollars away from Planned Parenthood and other abortion facilities and toward pro-life health care centers.
Please visit the Susan B. Anthony List's complete and up-to-date listing of the president's pro-life victories here.
Look at all he has accomplished in less than a year and a half. Then consider the time he has left. This is a thrilling opportunity for the pro-life movement, because day by day, we are getting closer to a time when the poison venom of Roe vs. Wade is overturned and abortion is put to a swift end in America.
Having the President of the United States attend our SBA family event is certainly exhilarating, but Marjorie Dannenfelser, president of SBA List, put things into perspective in an email Tuesday morning.
We are who we are because we know who we aren't. We are servants of the greatest of American causes. We know we are not the cause itself. You keep your eye on the precious boys and girls waiting to be born. You keep your humor knowing we do every single thing we can do to save them and the rest is up to the One who made them.
As the president said in his speech Tuesday night, "We know that every life has meaning and that every life is totally worth protecting."
Pray that President Trump, Vice President Pence and the rest of the administration successfully continue to save both babies and mothers. Victory lies just over the horizon.
For the unborn,