Life Issues Institute's first phase of our nationwide educational blitz exceeded expectations. We produced a half-hour radio program titled The Faces of Roe: Women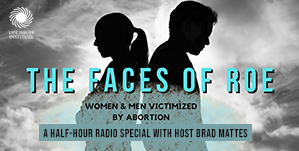 and Men Victimized by Abortion, that focused on the upcoming Dobbs late-term abortion case. Two of Brad's guests were a mother and a father who each shared riveting accounts of losing children to late-term abortion. You can listen to the full program at www.FacesofRoe.com
He also interviewed a former late-term abortionist who shared eye-opening information about what really happens behind closed doors at abortion centers. And a representative from Her PLAN shared exciting news of how her organization is building a safety net, state by state, that provides a wealth of resources for women and their babies that extend long after birth. Women without access to abortion will not be abandoned in America. The Faces of Roe program aired over 1,500 times on radio stations across the nation! Our primary target audience was secular talk format stations in major metropolitan areas. Prior to the airings, Brad was interviewed on many of the stations.
A four-week educational campaign on social media to strategically targeted audiences began at the same time. Brief video clips of the radio show guests reached millions more. Both radio listeners and social media audiences were directed to a custom website landing page, FacesofRoe.com, that provided additional information and many resources. You can watch these videos on that webpage.
Phase two is scheduled to begin in early June and will focus on the abortion landscape in a post-Roe environment.