Last year, I twice shared my biggest concerns with you as we moved into the new year. A successful midterm election would unleash the abortion industry's number one priority to one-by-one impose abortion until birth on every state in the Union.
My fears have been realized.
After the abortion industry and its advocates won statewide initiatives on abortion during the midterm election, they immediately mobilized their troops in "Red" states that have laws protecting unborn babies and their mothers from abortion.
Abortion advocates experienced unparalleled success in the midterm election in the states of Montana, California, Kentucky, Michigan and Vermont.
We now see their plan in action.
Two pro-abortion groups, Ohio Physicians for Reproductive Rights and Ohioans for Reproductive Freedom, submitted language for their ballot measure planned for this fall in the Buckeye state.
One claim is to, "unify, represent, and mobilize Ohio Physicians to advocate for every person's right to access evidence-based reproductive medical care, including abortion."
Let's explain what "evidence-based reproductive medical care" actually means.
Denial of documented research that abortion often harms women both physically and psychologically.
Rejection of the medical evidence that chemical abortion is four times more dangerous to women than surgical abortion.
Refuse to report physical complications, even life-threatening conditions, from abortion pills unless they actually kill women (which they do).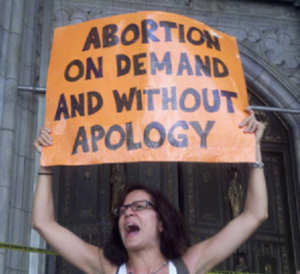 These groups aren't advocates of real medical care; they hide behind words disguised to appeal to an unsuspecting public. They, and other pro-abortion groups, will saturate Ohio with slick ads containing half-truths and lies. The true purpose of these groups is to impose a radical abortion-until-birth policy on every Ohio citizen.
These extreme groups submitted language for their fall ballot measure, deceitfully titled The Right to Reproductive Freedom with Protections for Health and Safety. Here are the realities of what this ballot measure will do.
Strip parents of their right to be informed or grant permission for their minor daughter to have an abortion.
Eliminate basic safety and health protections for women.
Abolish safeguards that protect women from being pressured or coerced into unwanted abortions.
Ban the right of Ohioans from passing pro-life legislation through their elected representatives.
Deny the State the right to "interfere" with any abortion facility, which could prevent safety and health inspections to protect women.
The only health and safety this measure would provide is for the abortion industry and those who work for it. Women and their babies would be thrown to the wolves.
If they succeed in getting enough signatures to place this radical measure on the fall ballot, Ohio will be flooded with well-funded, out-of-state organizations that will saturate social media, radio, TV and print with slick ads misrepresenting their radical agenda.
The result would be disastrous for the people of Ohio, for the parents of young girls, the standard of healthcare, the physical and psychological health of women who have abortions, countless women who may be pressured, forced, or coerced into abortions, and the standard by which Ohioans are able to seek representation by their elected officials.
Similar efforts are underway in the "Red" state of South Dakota.
Life will be changed forever.
Protecting women and their unborn babies,