Cincinnati, OH (April 15, 2013) – On Sunday, April 14, the pro-life community lost one of its most effective and esteemed members, 90-year-old Barbara Willke. She died peacefully after suffering a severe head injury due to a fall.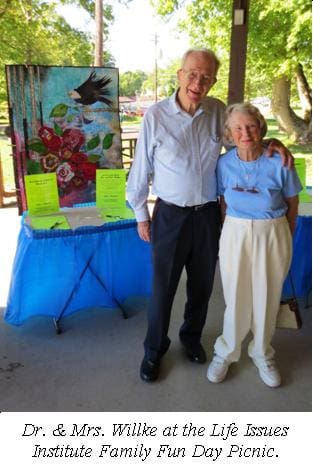 For over four decades, Barbara diligently worked alongside her husband, Dr. J.C. Willke, to protect innocent human life from womb to tomb. While the news of her passing is cause for grief, her legacy will continue to inspire future generations of the pro-life movement.
Barbara was instrumental in the founding of Cincinnati Right for Life. From its earliest days, she was a passionate advocate for life, using public speaking, slide shows and newsletters to help educate the public to the violence of abortion and positive alternatives.
Bradley Mattes, executive director of Life Issues Institute, said, ""Barbara was like a mother to me. She and Jack have been my inspiration and mentors for the 38 years I''ve been in the pro-life movement. The impact she and Jack have had on the pro-life movement is immeasurable.""
Barbara Willke''s lifework and legacy will continue through the work of Dr. Willke and Life Issues Institute.
Funeral arrangements are pending.
###
About Life Issues Institute : Life Issues Institute is dedicated to changing hearts and minds of millions of people through education, the foundation for pro-life political and legislative victories. For over 21 years, organizations and individuals around the world have depended upon Life Issues Institute to provide the latest pro-life information and effective tools to protect innocent human life from womb to tomb.