Headlines this week included versions of: Pro-Life Doctors' Association Banned from Medical Conference.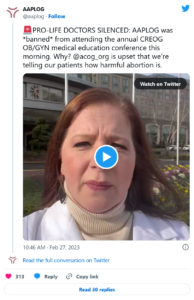 The battle for inclusion and equity among professional medical associations has been heating up. So far inclusion and equity, imaginary bedrock qualities of the Left, are nowhere in sight.
Organizations like the American College of OB-GYNs (ACOG), the American College of Nurse-Midwives (ACNM), and the American Board of Obstetricians and Gynecologists (ABOG) represent the top alphabet soup of pregnancy-related medical professionals. All support abortion but have lately become militant in imposing their extreme pro-abortion agenda while silencing opposition.
Most recently, the American Association of Pro-Life OB-GYNs (AAPLOG) had operated as a "special-interest group" within ACOG for 40 years. ACOG terminated that designation and barred their presence at the annual conference. For 15 years, AAPLOG has exhibited at this event. But after traveling to the Maryland conference site, Dr. Christina Francis – the new CEO of AAPLOG – was informed her prominent organization was banned from the exhibit floor. After multiple requests for an explanation as to why, they received a vague response that the group disagreed with ACOG, presumably on abortion.
Ironically, the theme of this year's conference was "Building Bridges."
A similar injustice occurred in October of last year when ACNM banned AAPLOG from its national midwifery conference, breaking a six-year-long presence at this event. ACNM cited their official position that "Abortion is healthcare."
The worst of the lot in medical intimidation was ABOG when it flexed its abortion muscle in a particularly menacing way. ABOG's board issued a July 7, 2022, statement threatening to revoke board certifications of members who impart "misinformation and disinformation about…abortion." This is the equivalent of taking away a doctor's livelihood if he or she shares peer-reviewed, evidence-based facts surrounding abortion.
Reaction was immediate and clear. AAPLOG, the Catholic Medical Association, and Christian Medical and Dental Association issued their own statement to the medical board – through an attorney. It carried a measured legal version of, "Bring it on!"
Dr. Donna Harrison – outgoing CEO of AAPLOG – said, "Physicians and midwives who care for both of their patients…are being systematically bullied and eliminated from being able to practice medicine."
Another irony is that three national studies reveal upwards of 75% of OB-GYNs do not include abortion in their practice. The very groups that these pro-abortion medical professionals shun represent a vast majority of physicians and other medical professionals in the field of labor and delivery.
Dr. Christina Francis has challenged ACOG's president to a debate on abortion. Anytime. Anyplace.
If I were qualified to offer any medical advice, it would be this – don't hold your breath.
For babies and their mothers,