A favorite day on my calendar is March 21. People around the globe celebrate the lives and contributions of individuals with Down syndrome. It's March 21 because this condition results from an extra (third) 21st chromosome.
We celebrate each and every human life with this condition regardless of their accomplishments. World Down Syndrome Day is for everyone!
All next week, I will feature remarkable stories of people who are making an indelible mark on the world. They will be showcased in my daily radio commentary, Life Issues. In addition, we provide more information on them as well as a wealth of resources.
This is just the tip of the iceberg of individuals with Down syndrome who are mainstreaming into society and being a blessing to all those around them.
Here's an early peek.
Congratulations to James Martin, who starred in a film called An Irish Goodbye, which won an Academy Award just days ago! What made the night even more special, it was James' birthday, so the audience sang "Happy Birthday" to him, decked out in his dad's leopard-skin jacket. When asked about filming the Oscar-winning movie, James said, "We had such fun." And he had a message for others with disabilities: "I would say to people who have autism, Down syndrome or some physical disability, I would say go for it, act your heart out…don't let people say you can't act."
Adam Libby, known on social media as Chef Adam, has over a million followers and has stacked up awards for his positivity and great recipes. Assisted by his twin sister, they turn out two videos a week.
Allison Fogarty is a chef of a different kind. Her company is Doggy Delights by Allison. She makes dog treats with healthier ingredients and ships her product throughout the country. Allison even got to make one of her recipes on TV with her hero Rachael Ray.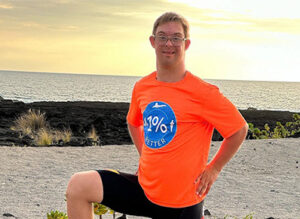 Of all the people I'm featuring next week, I'm especially excited about Chris Nikic. This young man is an absolute beast when it comes to the ultimate in physical challenges! Chris became the first individual with Down syndrome to complete the Ironman World Championship in Kona, Hawaii. This grueling event would make most men cry like little girls. Chris was also the first with his condition to run in the Boston and New York City marathons. He says, "I don't use my condition as an excuse, instead, I work harder. My dad told me…God gave me gifts. I don't ever doubt my dreams now."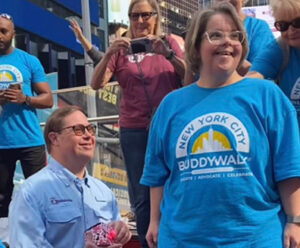 Jenny and Austin are living the dream in the romance department. Jenny thought she was just having her picture taken in Times Square, but her boyfriend, Austin, had other plans. Right after the picture was snapped, Austin got down on one knee and proposed to Jenny! Many people believe the misconception that people with Down syndrome can't get married, live on their own, and lead happy, productive lives. When Austin was asked about his feelings for Jenny, he said, "She makes my heart really nice, and she's the one for me." Isn't that the wish of most people today?
Another misconception is that people with Down syndrome can't have children. Jad not only fell in love and married, but he also became a parent to Sader, who does not have the condition. After his birth, Jad began saving money for college and gave Sader everything a loving and nurturing dad could give. Sader went on to become a dentist, and Jad couldn't be prouder. This dad – who enjoys much respect and notoriety in his own community – loves to tell others, "My son is a doctor." But Jad isn't the only proud member of the family. Doctor Sader says he feels the same amount of pride for his dad.
After college, Collette Divitto had trouble finding employment, so she started her own business: Collettey's Cookies, which employs 15 people. Collette's goal is to give individuals like her marketable skills so they can attain their goals. Collette lives on her own, paying her own bills.
It's good to see that Capitol Hill values the worth and dignity of individuals with Down syndrome. Representative Cathy McMorris Rodgers from Washington state's Fifth District is leading a bipartisan Congressional Task Force on Down Syndrome. Her oldest son, Cole, has the condition. The Task Force's goals will be to highlight innovative research, improve wages, educate their fellow members of Congress, and remove barriers people with Down syndrome currently face.
In the end, it doesn't matter the level of accomplishment of people with Down syndrome. All are entitled to a God-given right to life, dignity and value.
Because the Lord uses everybody!