Where were you on January 22, 1973?
The date will live in infamy— the US Supreme Court upended every state law governing abortion and pronounced it legal for any reason throughout pregnancy. Do you remember where you were when you heard the news?
Dr. John C. Willke—"Jack" to his friends—remembers where he was. He was in Houston waiting to go on a TV talk show. His wife, Barbara, was at home in Cincinnati. Their experience on that pivotal day is one of thousands of personal memories the Willkes share in Abortion and the Pro-Life Movement: An Inside View, their autobiographical history of the movement:
[Jack] was to debate a lady from Planned Parenthood . . . They were sipping coffee with the host just prior to going on, when a newsman walked in with an Associated Press wire story just off the teletype.  He said, "I think you'll both be interested in this."
They read it as they walked onto the set. It was the first report of the Supreme Court decision legalizing abortion. They were both stunned. It was incredibly worse than Jack had feared, and incredibly better than she had hoped.
During the next 24 hours, Jack was on 14 radio and TV shows and major news interviews. At one point while he was on a one-hour call-in radio show, one of the TV networks could not wait and simply brought their cameras into the radio studio, set up the lights, and filmed him answering questions.1
Final editing and publication of this unique memoir were delayed by Barbara's unexpected death in 2013, but I'm thrilled to tell you the book went to press late last year and is now available.
Jack, a family physician, heavy in OB/GYN, and Barbara, a nurse, pioneered pro-life conversation long before Roe vs. Wade and far ahead of their time. As far back as 1959 they were writing educational materials on sexuality, including The Wonder of Sex—How to Teach Children in 1964, and lecturing around the country. Their groundbreaking Handbook on Abortion, published in 1971, sold millions. They didn't shy away from plain talk about conception, pregnancy or the awful reality of abortion. They didn't back down from intimidation.
One of our early requests to speak was at Western College for Women (now part of Miami University in Oxford, Ohio). The hall was filled, and when we were introduced as the parents of six children there was a hiss from some of the audience. . . . We became acutely aware of a small group blurting out "fetus" every time we said "baby" and "choice" if we said "pro-abortion." Any references to "family" were met with further hissing and heckling. . . . It [was] an evening we would never forget."2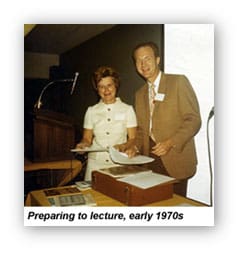 Through such personal stories, An Inside View tells the Willkes' journey from kitchen-table activism to national and international leadership. But beyond their own memories, the book also documents the country's changing attitude toward marriage, divorce, privacy, and rights that opened the door to abortion. A timeline of legislation, political controversy, medical advances and publications helps us understand how we got where we are today, still fighting to overturn Roe vs. Wade. Plus, it credits our many pro-life friends—grassroots citizens and activist leaders—from around the world who've been instrumental in a collective work to end abortion.
Jack will turn 90 in April. With his beloved Barbara at his side until her death, he's given nearly his entire adult life to protecting and advocating for life. I'm honored to have worked alongside him since we founded Life Issues Institute in 1991 and consider him a second father. It was their pro-life materials and slide set that launched my pro-life advocacy spanning four decades.
At last month's March for Life in Washington, DC, I walked with more than 200,000 pro-lifers—three-quarters of them 25 years old and under. Each one and millions more have been influenced by the work of Jack and Barbara Willke. Abortion and the Pro-Life Movement: An Inside View is the last book they will publish. But their legacy will go on—through us.
Abortion and the Pro-Life Movement: An Inside View is available at Amazon and Buy Books on the Web.
Bradley Mattes
President, Life Issues Institute
Life Issues Institute is dedicated to changing hearts and minds of millions of people through education. For 31 years, organizations and individuals around the world have depended upon Life Issues Institute to provide the latest information and effective tools to protect innocent human life from womb to tomb.