Facing Life Head-On crew members: Rudy Harris, director of photography; Dylan Cahall, editor; Brad Mattes,host and executive producer; John Colmar, president of Zone Communication Group, the production company.

Brad and Ellen Mattes with John and Keri Colmar before the Emmy® festivities.

Brad Mattes with his wife, Ellen.

Brad Mattes, host and executive producer of Facing Life Head-On, accepts the Emmy® Award with fellow recipients Dylan Cahall, editor, and John Colmar, accepting for producer Rachel Reeves.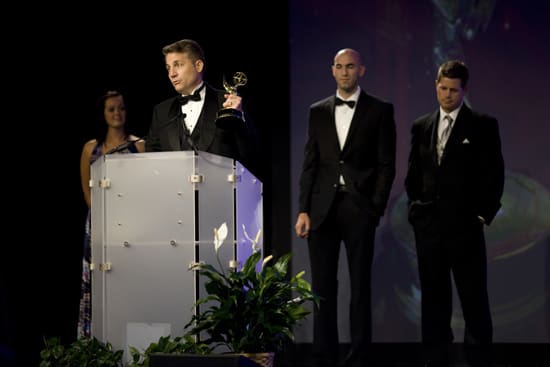 Brad Mattes dedicates the award to the men and women in Afghanistan and Iraq who risk their lives and sometimes die to defend the freedoms we hold dear.

Enjoying success. (L-R) Dylan Cahall, Brad Mattes, John Colmar.

Brad and Ellen Mattes celebrate at the Emmy® Award ceremony.